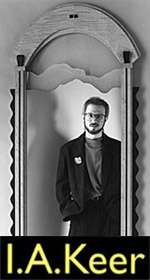 I.A.Keer is a practicing Interior Architect, a certified Interior Designer and Furniture Design Artist in the State of Minnesota. Keer is employed as a Sr. Interior Project Architect and Custom Furniture Designer with Parker Durrant - Minneapolis; and under the signature name I.A.Keer, The Art of Furniture maintains a parallel and blossoming career in the design of studio art furniture.

Keer's furniture, design and drawings have been exhibited in select galleries and museums; recognized in a wide range of national publications, and have won numerous awards.

Keer received a Masters of Architecture from the University of Minnesota; a Bachelors of Science in Architectural Studies from the University of Illinois; studied at the American Academy of Art in Chicago, Illinois; and the Ecole des Beaux-Arts, France.

Keer is a member of the Furniture Society, American Society of Furniture Artists (ASOFA), American Craft Council (ACC), and the American Institute of Architects (AIA).