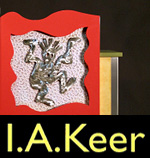 To inquire about a Special Project, call, e-mail or write I.A.Keer


Each furniture work is a Special Project and a custom design. Built works are handmade using the finest materials and details, through a spirited collaboration with select craftsman. Some designs are conceptual and remain unbuilt.



Commissions for Special Projects are welcome.
Contact the Artist.


These furniture works are copyrighted by I.A.Keer (IAK), Ellerbe Becket (EB), or Walsh Bishop (WB). All rights are reserved.