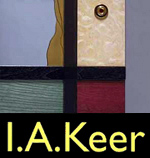 To place an order or ask a question, call,
e-mail or write to I.A.Keer


Each furniture work is handmade with the finest materials and details, and fabricated through a spirited collaboration with select craftsman.



One-of-a-kind and edition works are Artist signed, numbered, dated and include a Certificate of Authenticity.



Commisions, modifications to Products and Special Projects are welcome.



Price list available upon request. Contact the Artist.



Materials and details are subject to change without notice.



All designs are copyrighted by I.A.Keer. All rights reserved.